Doing Nothing Proving To Be Unpopular With Hardworking Hoosiers
---
TOP TAKEAWAYS
Roll Call ranks Senator Joe Donnelly the third most vulnerable senator up for reelection in 2018 while a recent Morning Consult poll reveals 43% of Hoosiers think it's time for a different senator and only 30% think Do-Nothing Donnelly deserves reelection.
These numbers should come as no surprise to Donnelly, given that he has engaged in petty politics and obstructionism by voting against President Trump's nominees and legislative priorities.
Donnelly was rated the least effective Senate Democrat in the 114th Congress, and only two of his sponsored bills have passed the Senate during his tenure and none have been signed into law.
Donnelly voted against tax reform which has brought wage increases and bonuses to his constituents after spending years profiting off of outsourcing American jobs to Mexico.

Donnelly voted against the tax reform bill, calling it "wrong for Hoosiers," as companies raise wages and give bonuses to his constituents.
While Donnelly has criticized the use of foreign labor, his own family company outsourced work to Mexico.
Before selling his stock in the company for as much as $50,000, financial disclosures show Donnelly collected dividends from 2013 to 2016 that were worth between a combined $20,000 and $80,000.

Donnelly's liberal record is wrong for Indiana: Donnelly opposed enhanced vetting for refugees, opposed stopping illegal immigrants from receiving welfare, opposed repealing Obamacare, voted to pass Obamacare, and voted four times to try and save the Iran deal.
---
SENATOR JOE DONNELLY WATCHES HIS APPROVAL NUMBERS FALL AS HOOSIERS CONTINUE TO LOSE FAITH IN HIS LEADERSHIP
According To A New Poll, More Hoosiers Think It's Time For A New Senator Than Think Donnelly Should Be Reelected
According To May's Morning Consult Poll, Forty-Three Percent Of Hoosiers Do Not Believe Donnelly Deserves Reelection, An Increase Of Two Points From The Month Before. ( Morning Consult , 275,000 Registered Voters, 2/1/18 - 4/30/18)
In A Generic Ballot, 39 Percent Of Indiana Voters Would Vote For A Republican Versus 34 Percent Who Would Vote For A Democrat. ( Morning Consult , 275,000 Registered Voters, 2/1/18 - 4/30/18)
According To Roll Call, Donnelly Is Currently The Third Most Vulnerable Senator Ahead Of The 2018 Midterms. (Simone Pathé, "Six Month Out: The 10 Most Vulnerable Senators In 2018," Roll Call , 5/10/18)
AS A SENATOR, DONNELLY HAS MASTERED THE ART OF OBSTRUCTION, BUT HAS NOT LEARNED HOW TO GET THNGS DONE
Donnelly Voted Against Seven Of President Trump's Cabinet Nominees And Only Backed Secretary Of State Mike Pompeo Once The Outcome Was Determined
On February 1, 2017, Donnelly Voted Against The Confirmation Of Rex Tillerson For Secretary Of State. (PN25, Roll Call Vote #36 : Confirmed 56-43: R 52-0-0; D 3-42-1; I 1-1-0, 2/1/17, Donnelly Voted Nay)
On February 7, 2017, Donnelly Voted Against The Confirmation Of Betsy DeVos For Secretary Of Education. (PN37, Roll Call Vote #54 : Confirmed: 50-50: R 50-0; D 0-48; I 0-2, 2/7/17, Donnelly Voted Nay)
On February 8, 2017, Donnelly Voted Against The Confirmation Of Jeff Sessions For Attorney General. (PN30, Roll Call Vote #59 : Confirmed: 52-47-1: R 51-0-1; D 1-45-0; I 0-2-0, 2/8/17, Donnelly Voted Nay)
On February 10, 2017, Donnelly Voted Against The Confirmation Of Tom Price For Secretary Of Health And Human Services. (PN33, Roll Call Vote #61 : Confirmed 52-47-1: R 52-0-0; D 0-45-1; I 0-2-0, 2/10/17, Donnelly Voted Nay)
On February 13, 2017, Donnelly Voted Against The Confirmation Of Steven Mnuchin For Secretary Of Treasury. (PN26, Roll Call Vote #63 : Confirmed 53-47: R 52-0; D 1-46, 2/13/17, Donnelly Voted Nay)
On February 16, 2017, Donnelly Voted Against The Confirmation Of Mick Mulvaney For Director Of The Office Of Management And Budget. (PN54, Roll Call Vote #68 : Confirmed 51-49: R 51-1; D 0-48, 2/16/17, Donnelly Voted Nay)
On April 27, 2017, Donnelly Voted Against The Confirmation Of R. Alexander Acosta For Secretary Of Labor. (PN88, Roll Call Vote #116 , Confirmed 60-38-2, R 52-0-1; D 8-37-1; I 1-1-0, 4/27/17, Donnelly Voted Nay)
Donnelly Decided To Publicly Back Pompeo's Nomination After The Secretary Of State Already Had The Votes To Be Confirmed. "Sen. Joe Donnelly (D-Ind.) on Monday became the third Democrat to say he will vote for CIA Director Mike Pompeo to be President Trump's next secretary of State. 'We need a Secretary of State who will give the president an honest assessment on critical issues, including Russia, Syria, and the defeat of [the Islamic State in Iraq and Syria] ISIS. I believe Director Pompeo is capable of advancing U.S. interests and leading the State Department,' Donnelly said in a statement. Pompeo already has the votes needed to be confirmed by the full Senate." (Jordain Carney, "Donnelly Becomes Third Dem To Support Pompeo," The Hill , 4/23/18)
Senator Donnelly Was Rated The Least Effective Senate Democrat In The 114th Congress And Only Two Of His Sponsored Bills Have Passed The Senate During His Tenure
According To The Center For Effective Lawmaking, Donnelly Was The Least Effective Senate Democrat In The 114th Congress. ("Find Legislators," Center Of Effective Lawmaking , Accessed 5/10/18)
The Center For Effective Lawmaking Is A Nonpartisan Group That "Creates Effectiveness Scores For Each Lawmaker In Congress Based On 15 Metrics, Including How Many Bills A Legislator Sponsored And How Far Bills Progressed Toward Becoming Law." "Sen. Joe Donnelly, according to the Center for Effective Lawmaking, who said the Democrat from Indiana was the worst in his party at advancing agenda items toward becoming law during the last Congress. The nonpartisan center, run jointly by the University of Virginia and Vanderbilt University, creates effectiveness scores for each lawmaker in Congress based on 15 metrics, including how many bills a legislator sponsored and how far bills progressed toward becoming law." (Dwight Adams, "Joe Donnelly Rated Least Effective Democrat In Senate In New Study," Indy Star , 10/5/17)
Donnelly Was Ranked The Third Least Effective In The 113 th Congress When Democrats Were In The Majority. "This wasn't an anomaly, the center said. It ranked Donnelly 55 out of 57 Democrats in the 113th Congress from 2013-14, at a time when Democrats were in the majority." (Dwight Adams, "Joe Donnelly Rated Least Effective Democrat In Senate In New Study," Indy Star , 10/5/17)
Since Taking Office In The Senate In 2013, Donnelly Has Served As The Primary Sponsor On A Total Of 118 Pieces Of Legislation, Including 46 Bills. ("Senator Joe Donnelly," Congress.Gov , Accessed 4/29/18)
Of Donnelly's 46 Sponsored Bills, None Have Become Law And Only Two Have Passed The Senate . ("Senator Joe Donnelly," Congress.Gov , Accessed 4/29/18)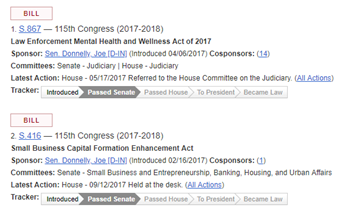 During His Time In The House, Donnelly Served As The Primary Sponsor On A Total Of 37 Pieces Of Legislation, Including 31 Bills . ("Senator Joe Donnelly," Congress.Gov , Accessed 4/29/18)
Of Donnelly's 31 Sponsored Bills, None Became Law And Only One Bill Passed The House. ("Senator Joe Donnelly," Congress.Gov , Accessed 4/29/18)
WHILE DONNELLY SAYS NO TO MORE MONEY AND JOBS FOR HIS CONSTITUENTS, HE IS HAPPY TO EXPORT JOBS
A Plurality Of Hoosiers Say Economic Policy Is The Issue Area Most Important To Them
Ahead Of The 2018 Elections, A Plurality Of Indiana Voters Polled Say Economic Issues Are The Most Important Policy Area To Them. ( Morning Consult , 275,000 Registered Voters, 2/1/18 - 4/30/18)
Donnelly Voted Against Tax Reform Which Has Brought Wage Increases And Bonuses To His Constituents
On December 20, 2017, Donnelly Voted Against the Tax Cuts And Jobs Act . (H.R. 1, Roll Call Vote #323 : Motion Agreed To 51-48-1: R 51-0-1; D 0-46-0; I 0-2-0, 12/20/17, Donnelly Voted Nay)
As A Result Of The Tax Cuts And Jobs Act, AT&T Will Pay $1,000 Bonuses To Over 200,000 "'Union-Represented, Non-Management" Workers, And Will Invest An Additional $1 Billion Into The United States In 2018 Alone. "AT&T, the No. 2 U.S. wireless carrier, said it will pay $1,000 bonuses to more than 200,000 employees and invest an additional $1 billion in the United States in 2018, once the tax reform bill is signed into law. An AT&T spokesman said the bonuses were unrelated to the $1,000 that 20,000 AT&T Mobility employees will receive as part of an agreement with the Communications Workers of America announced last week. Employees eligible for the bonus are all 'union-represented, non-management and front-line managers,' AT&T said in a statement." ("AT&T, Two Banks Offer Bonuses, Pay Hikes In Wake Of U.S. Tax Reform," Reuters , 12/20/17)
There Are More Than 3,900 AT&T Employees In Indiana. " More than 3,900 AT&T employees working in Indiana as of Dec. 31, 2017." ("Jobs And Economic Support," AT&T, Accessed 5/9/18)
Following The Passage Of The Tax Bill, CVS Increased Its Minimum Wage To $11 An Hour. "CVS Health will increase the starting wage rate for hourly employees to $11 an hour, effective April 2018. As part of this change, the company also plans to adjust pay ranges and rates for many of its retail pharmacy technicians, front store associates and other hourly retail employees later in the year to ensure a competitive compensation structure that supports the company's plans to evolve its retail stores into a health care destination.." (Press Release, "CVS Health Investing In Long-Term And Sustainable Wage Increases And Benefits Enhancements Following The Passage Of The Tax Cuts And Jobs Act," CVS , 2/8/18)
CVS Has 309 Phamacies And 44 MinuteClinics In Indiana. ("Facts By State," CVS , Accessed 5/9/18)
As A Result Of The Tax Cuts And Jobs Act, Walmart Will Increase Its Minimum Wage To $11 An Hour, And Give Eligible Employees A One Time $1,000 Bonus. "Walmart's workers will soon reap the benefits of the recent tax law changes, as the world's largest private employer raises its starting wage, creates new benefits and distributes bonuses to eligible workers. The big-box retailer announced Thursday it will increase its starting wage rate for hourly employees in the U.S. to $11, and expand maternity and parental leave benefits. Currently, Walmart's starting wage is $9 until workers complete a training program. Then, they receive $10. Walmart will also pay a one-time cash bonus to eligible employees of as much as $1,000. The payouts, which should total roughly $400 million, will result in a one-time charge that the company will take in its fiscal fourth quarter." (Lauren Thomas, "Walmart To Raise Its Starting Wage To $11, Give Some Employees Bonuses Following Tax Bill Passage," CNBC , 1/11/18)
There Are 39,875 Walmart Employees In Indiana. "Associates: Associates in Indiana: 39,875." (Indiana, Walmart , Accessed 5/9/18)
Northern Indiana Public Service Company Natural Gas Will Reduce Its Utility Prices Thanks To Savings From The Tax Cuts And Jobs Act. "As a result of the newly enacted federal tax reform, NIPSCO submitted a request with the Indiana Utility Regulatory Commission (IURC) to lower its previous request to modify natural gas base rates by $26 million. The reduction means natural gas residential customers would pay nearly $2 less per month following the Commissions' decision in the company's natural gas rate proposal, which is expected in the second half of 2018. The average natural gas residential customer paying $50 per month is projected to see their bill go to $58.10 per month, subject to IURC approval, rather than $59.80 as originally proposed." (Press Release, "Nipsco Natural Gas Customers To See Lower Bills As A Result Of Federal Tax Reform," Nipsco Natural Gas , 1/29/18)
NIPSCO, Indiana's Largest Natural Gas Distribution Company And The Second-Largest Electric Distribution Company, Services 1,280,000 Customers. "Northern Indiana Public Service Company (NIPSCO), with headquarters in Merrillville, Indiana, has proudly served the energy needs of northern Indiana for more than 100 years. As Indiana's largest natural gas distribution company and the second-largest electric distribution company, NIPSCO serves approximately 820,000 natural gas and 460,000 electric customers across 32 counties." (Press Release, "NIPSCO Natural Gas Customers To See Lower Bills As A Result Of Federal Tax Reform," NIPSCO Natural Gas , 1/29/18)
PNC Financial Services Said It Will Give $1,000 Bonuses To 90 Percent Of Their Employees Below A Certain Pay Grade, And Will Increase Their Minimum Wage To $15 An Hour By The End Of 2018. "PNC Financial Services PNC, +0.47% became the latest company to say it will pay special bonuses to the bulk of its employees, among other workforce investments, after the tax bill was signed into law Friday. The financial services company said it will provide a $1,000 cash payment in the first quarter of 2018 to about 47,500 employees, or the about 90% of its workforce who are below a certain compensation band. In addition, PNC said it would raise its minimum wage to $15 an hour by the end of 2018, provide an additional $1,500 for employees in the defined benefit pension plan and make a $200 million contribution to the PNC Foundation, which supports early childhood education." (Tomi Kilgore, "PNC To Pay $1,000 Bonuses, Raise Minimum Wage After Tax Bill Signed," Market Watch , 12/22/17)
PNC Financial Services Has 3 Wealth Management Offices In Indiana. ("Wealth Management And Hawthorn Office Locations," PNC , Accessed 5/9/18)
Following The Tax Cuts And Jobs Act, Apple Gave Its Employees A Bonus Of $2,500 Worth Of Restricted Stock Units, And Pledged To Invest $30 Billion And Add 20,000 New Jobs Into The U.S. Economy Over The Next Five Years. "Apple Inc. told employees Wednesday that it's issuing a bonus of $2,500 worth of restricted stock units, following the introduction of the new U.S. tax law, according to people familiar with the matter. The iPhone maker will begin issuing stock grants to most employees worldwide in the coming months, said the people, who asked not to be identified because they weren't authorized to speak publicly. The move comes on the same day Apple said it would bring back most of its cash from overseas and spend $30 billion in the U.S. over the next five years, funding an additional technical support campus, data centers and 20,000 new employees. Apple confirmed the bonuses in response to a Bloomberg inquiry Wednesday." (Mark Gurman, "Apple Gives Employees $2,500 Bonuses After New Tax Law," Bloomberg , 1/17/18)
There Are 381 Apple Employees In Indiana. ("Jobs In Every State," Apple, Accessed 3/21/18)
Indianapolis-Based Anthem Is Making $1,000 Retirement Contributions To More Than 58,000 Employees. "Indianapolis-based Anthem is making retirement contributions of $1,000 to more than 58,000 employees and recent retirees in response to the recent GOP tax cuts, the company announced Monday. The announcement came days after the health insurance giant told investors the largest share of the benefits of the tax bill President Trump signed into law in December will go to shareholders." (Maureen Groppe, "Anthem Giving Some Tax Cut Benefits To Workers Now - And To Shareholders Later," The Indianapolis Star , 2/5/18)
As A Result Of The Tax Cuts And Jobs Act, FedEx Is Investing $1.5 Billon To "Significantly Expand The FedEx Express Indianapolis Hub Over The Next Seven Years." "Investing $1.5 billion to significantly expand the FedEx Express Indianapolis hub over the next seven years. The Memphis SuperHub will also be modernized and enlarged in a major program the details of which will be announced later this spring." (Press Release, "FedEx Committing More Than $3.2 Billion In Wage Increases, Bonuses, Pension Funding And Expanded U.S. Capital Investment Following The Passage Of The Tax Cuts And Jobs Act," Fedex , 1/26/18)
Indiana's First Farmers Bank & Trust Issued $750 Bonuses To At Least 330 Employees, And Increased Its Minimum Wage By $2.50. "First Farmers Bank & Trust is set to issue $750 year-end bonuses to its more than 330 full-time employees. It's also increasing its minimum starting wage by $2.50 - the biggest wage increase in its 133-year history. How can the Converse-based bank afford the new investment? Company officials say it's thanks to the new corporate tax cut approved by Congress and signed into law last month by President Donald Trump." (Carson Gerber, "A Tax-Bill Boom: Area Employees See Pay Raises, Bonuses After Corporate Tax Cut," Kokomo Tribune , 1/14/18)
Indiana Based Family Express, Which Owns 70 Convenience Stores Across Indiana, Increased Their Minimum Wage To $11 An Hour. "Valparaiso-based Family Express, which has 70 convenience stores across Indiana and is in the process of building 10 more, is bumping its starting wage to $11 an hour. The 43-year-old convenience store chain is raising entry-level pay by $1 an hour, after pre-empting national retailers like Walmart with above-market starting wages in April 2015. Family Express said it was boosting pay because of the tax cuts that reduced the corporate tax rate from 35 percent to 21 percent and as a bid to recruit quality employees and reduce turnover." (Joseph S. Pete, "Family Express Raises Starting Pay To $11 An Hour," Northwest Indiana Times , 2/5/18)
Donnelly Criticized The Use Of Foreign Labor While His Own Family Company Outsourced Work To Mexico
In January 2017, Donnelly Joined Senator Sherrod Brown (D-OH) And Senator Kirsten Gillibrand (D-NY) To Introduce The End Outsourcing Act. "U.S. Senator Joe Donnelly (D-IN), with the support of Senator Sherrod Brown (D-OH) and Senator Kirsten Gillibrand (D-NY), announced the introduction of the End Outsourcing Act." (Press Release, "Donnelly, Brown, Gillibrand Introduce 'End Outsourcing Act' to Protect American Workers," Senator Joe Donnelly , 1/30/17)
In The Press Statement, Donnelly Said "We Need To Change Our Federal Policies To Stop The Outsourcing Of American Jobs" And Said His Constituents Are "On The Verge Of Having Their Lives Upended Because Their Companies Are Moving Jobs To Mexico." "Donnelly said, 'We need to change our federal policies to stop the outsourcing of American jobs. Right now, hundreds of Hoosiers are on the verge of having their lives upended because their companies are moving jobs to Mexico.'" (Press Release, "Donnelly, Brown, Gillibrand Introduce 'End Outsourcing Act' to Protect American Workers," Senator Joe Donnelly , 1/30/17)
Donnelly Criticized Carrier In 2016, Calling Them "Free Riders" And Saying They "Ship Jobs To Mexico For $3 An Hour" And Then "Turn Around To Ship The Products Back Into The United States." "'What you're seeing with Carrier is what I call free riders,' Donnelly told the Indiana political news website The Statehouse File in August 2016. 'What they do because of the trade agreement NAFTA, is they ship jobs to Mexico for $3 an hour, and so they get the benefit of the absolute lowest wages they can find, and then turn around to ship the products back into the United States.'" (Bryan Slodysko, "AP Exclusive: Indiana Sen. Joe Donnelly Profits From Outsourcing," The Associated Press , 7/13/17
Stewart Superior Corp, An Arts And Crafts Business Owned By Donnelly's Family, Shipped Raw Materials To A Factory In Mexico And Transported To Finished Products To A Facility In California. "However, an arts and crafts business Donnelly's family has owned for generations is capitalizing on some of the very trade policies - and low-paid foreign labor - the senator has denounced. For more than a year, Stewart Superior Corp. and its subsidiaries have been shipping thousands of pounds of raw materials to Mexico, where the company has a factory that produces ink pads and other supplies, according to customs records from Panjiva Inc., which tracks American imports and exports. The finished products are then transported back to a company facility in California, the records show." (Bryan Slodysko, "AP Exclusive: Indiana Sen. Joe Donnelly Profits From Outsourcing," The Associated Press , 7/13/17)
Donnelly Served As A Corporate Officer And The General Counsel For Stewart Superior Before Being Elected In 2006. "Although Donnelly's brother runs the company, the senator previously served as a corporate officer and its general counsel before he was first elected to Congress in 2006." (Bryan Slodysko, "AP Exclusive: Indiana Sen. Joe Donnelly Profits From Outsourcing," The Associated Press , 7/13/17)
After The Report Broke, Donnelly Announced That He Was Selling His Stock In The Company. "An Indiana senator and longtime critic of outsourcing jobs to foreign countries announced Friday that he's selling his stock in his family's arts and crafts company after The Associated Press reported it manufactures some products in Mexico." (Associated Press, "Indiana Senator Selling Stock After Report Ties Family's Company To Mexican Labor," Chicago Tribune , 7/14/17)
Before He Sold His Stock, Financial Disclosure Reports Show That Donnelly Made Money On The Company's Stock Dividends. "In a financial disclosure form he filed in May, Donnelly reported owning as much as $50,000 in company stock and earning between $15,001 and $50,000 in dividends on it in 2016 alone." (Bryan Slodysko, "AP Exclusive: Indiana Sen. Joe Donnelly Profits From Outsourcing," The Associated Press , 7/13/17)
In His 2016 Senate Financial Disclosure, Donnelly Owned $15,001 - $50,000 In Stewart Superior Stock Which Resulted In $15,001 - $50,000 In Dividends. (Senator Joe Donnelly, United States Senate Public Disclosure Report , 5/15/2017)
In His 2015 Senate Financial Disclosure, Donnelly Owned $15,001 - $50,000 In Stewart Superior Stock Which Resulted In $5,001 - $15,000 In Dividends. (Senator Joe Donnelly, United States Senate Public Disclosure Report , 6/28/16)
In His 2014 Senate Financial Disclosure, Donnelly Owned $15,001 - $50,000 In Stewart Superior Stock Which Resulted In $5,001 - $15,000 In Dividends . (Senator Joe Donnelly, United States Senate Public Disclosure Report , 6/28/16)
DONNELLY'S OBSTRUCTION SHOULD COME AS NO SURPRISE CONSIDERING HIS HISTORY OF VOTING AGAINST POLICIES THE PRESIDENT IDEOLOGICALLY FAVORS
In 2010, Then-Rep. Donnelly Voted For Obamacare
In March 2010, Then-Rep. Joe Donnelly (D-IN) Voted For The Patient Protection And Affordable Care Act . (H.R. 3590, Roll Call Vote #165 , 3/21/10; Agreed To 219-212: D 219-34, R 0-178; Donnelly Voted Yea)
In March 2010, Donnelly Voted For The Health Care And Education Reconciliation Act Of 2010 . (H.R. 4872, Roll Call Vote #194 : Passed 220-207-3: R 0-178; D 220-33, 3/21/10, Donnelly Voted Yea)
In July 2017, Senator Donnelly Voted Against Three Bills That Would Repealed All Or Parts Of Obamacare
On July 25, 2017 Senator Joe Donnelly (D-IN) Voted Against S.Amdt. 270 To S.Amdt. 267 To H.R. 1628. (S.Amdt. 270 To S.Amdt. 267 To H.R. 1628, Roll Call Vote #168 : Motion Rejected 43-57: R 43-9; D 0-46; I 0-2, 7/25/17)
The Amendment Would Have Allowed Insurers To Sell Plans Without Benefits Mandated By The Affordable Care Act If They Also Sold Plans That Included Such Benefits. "The Tuesday night vote was on a comprehensive amendment that included disparate proposals calculated to appeal to conservatives and moderates in the Republican caucus. One proposal, offered by Senator Ted Cruz, Republican of Texas, would have allowed insurers to sell stripped-down health plans, without maternity care or other benefits required by the Affordable Care Act, if they also sold plans that included such benefits." (Thomas Kaplan and Robert Pear, "Senate Votes Down Broad Obamacare Repeal," The New York Times , 7/25/17)
The Amendment Would Also "Included Money To Help Pay Out-Of-Pocket Medical Costs For Low-Income People, Including Those Who Buy Private Insurance After Losing Medicaid Coverage As A Result Of The Senate Bill." "The amendment also included money to help pay out-of-pocket medical costs for low-income people, including those who buy private insurance after losing Medicaid coverage as a result of the Senate bill. This proposal was devised by Senator Rob Portman, Republican of Ohio, and other senators from states that have expanded Medicaid under the Affordable Care Act." (Thomas Kaplan and Robert Pear, "Senate Votes Down Broad Obamacare Repeal," The New York Times , 7/25/17)
On July 26, 2017, Donnelly Voted Against S.Amdt. 271 To S.Amdt. 267 To H.R. 1628. (S.Amdt. 271 To S.Amdt. 267 To H.R. 1628, Roll Call Vote #169 : Amendment Rejected 45-55: R 45-7; D 0-46; I 0-2, 7/26/17, Donnelly Voted Nay)
The Amendment Would Have Repealed Major Parts Of The Affordable Care Act. "The Senate on Wednesday rejected a measure that would have repealed major parts of the Affordable Care Act but would not have provided a replacement, signaling that the 'clean repeal' bill that conservatives have embraced cannot get through Congress. The vote, 45-55, underscored the bind that Republican leaders have found themselves in." (Thomas Kaplan and Eileen Sullivan, "Health Care Vote: Senate Rejects Repeal Without Replace," The New York Times , 7/26/17)
On July 28, 2017, Donnelly Voted Against S.Amdt. 667 To S.Amdt. 267 To H.R. 1628. (S.Amdt. 667 To S.Amdt. 267 To H.R. 1628, Roll Call Vote #179 , Amendment Rejected 49-51: R 49-3; D 0-46; I 0-1, 7/28/17, Donnelly Voted Nay)
Also Known As The "Health Care Freedom Act", This Amendment Would Have Repealed The Mandates Covering Individuals and Employers. "The Senate rejected a third Republican proposal to repeal the Affordable Care Act early Friday morning. The "skinny" repeal amendment, called the Health Care Freedom Act, would have repealed the mandates that most individuals have health insurance and that large employers cover their employees, among other provisions." (Alicia Parlapiano, Wilson Andrews, Jasmine Lee and Rachel Shorey, "How Each Senator Voted On Obamacare Repeal Proposals," The New York Times , 7/28/17)
Senator Donnelly Voted Four Times Voted Against Measures That Would Have Blocked The Iran Nuclear Deal
By September 17, 2015, Senate Democrats Had Blocked Legislation Meant To Kill The Iran Deal Three Times. "U.S. Senate Democrats on Thursday blocked legislation meant to kill the Iran nuclear deal for a third time, securing perhaps the greatest foreign policy win of President Barack Obama's six years in office and clearing the way to implement the accord." (Patricia Zengerle, "Last Bill To Kill Iran Nuclear Deal Blocked In Senate," Reuters , 09/17/15)
Donnelly Voted No On The Amendment To HJ Res 61 To Disapprove The Iran Nuclear Deal On September 10, 2015. (S. Amdt.2640 To H.J.Res.61, Roll Call Vote #264 , Motion Disapproved 58-42: R 54-0; D 4-40; I 0-2, 09/10/15, Donnelly Voted Nay)
Donnelly Voted No On The Same Legislation On September 15, 2015. (S. Amdt.2640 To H.J.Res.61, Roll Call Vote #265 , Motion Disapproved 56-42: R 52-0-2; D 4-40-0; I 0-2-0, 09/15/15, Donnelly Voted Nay)
Donnelly Voted No For A Third Time On The Amendment To HJ Res 61 To Disapprove The Iran Nuclear On September 17, 2015. (S. Amdt.2640 To H.J.Res.61, Roll Call Vote #267 , Motion Disapproved 56-42: R 52-0-2; D 4-40-0; I 0-2-0, 09/17/15, Donnelly Voted Nay)
On September 17, 2015, Senators Voted 53-45 To Block An Amendment Proposed By Senate Majority Leader Mitch McConnell (D-KY) Meant To Stop The Iran Nuclear Deal. "Democrats on Thursday blocked a last-ditch effort from Republicans to stop the Iran nuclear deal by linking the agreement to Israel and American prisoners. Senators voted 53-45 on an amendment from Majority Leader Mitch McConnell (R-Ky.) that would have prevented President Obama from lifting sanctions on Iran until the country releases American prisoners and publicly recognizes Israel's right to exist. Sixty votes were needed to move forward." (Jordain Carney, "Dems Block Amendment Linking Iran Deal To Israel," The Hill , 09/17/15)
Donnelly Voted No The Proposed McConnell Amendment To Prohibit The Waving Of Sanctions On Iran On September 17, 2015. (S.Amdt.2656 To S.Amdt.2640, Roll Call Vote , Motion Disapproved 53-45, 09/17/15, Donnelly Voted Nay)
Senator Donnelly Voted Against Legislation That Would Have Implemented Enhanced Screening Procedures For Refugees From Iraq And Syria
On January 20, 2016, Donnelly Voted Against The American Security Against Foreign Enemies Act Of 2015. (H.R. 4038, Roll Call Vote #4 : Cloture Motion Rejected 55-43-2: R 53-0-1; D 2-42-0; I 0-1-1, 1/20/16, Donnelly Voted Nay)
This Bill Would Have Instructed The Federal Bureau Of Investigation To "Take All Actions Necessary To Ensure That Each Covered Alien Receives A Background Investigation Before U.S. Refugee Admission" In Addition To A Department Of Homeland Security Screening. "(Sec. 2) This bill requires that, in addition to the Department of Homeland Security (DHS) screening, the Federal Bureau of Investigation (FBI) shall take all actions necessary to ensure that each covered alien receives a background investigation before U.S. refugee admission." (H.R. 4038, Summary : Cloture Motion Rejected 55-43-2: R 53-0-1; D 2-42-0; I 0-1-1, 1/20/16, Donnelly Voted Nay)
These Enhanced Screenings Would Apply To Aliens Applying For U.S. Refugee Admission From Iraq And Syria, Whose Last Residence Was In These Two Countries, Or Who Have Been In These Two Countries On Or After March 1, 2011. "A 'covered alien' is any alien applying for U.S. refugee admission who: is a national or resident of Iraq or Syria, has no nationality and whose last habitual residence was in Iraq or Syria, or has been present in Iraq or Syria at any time on or after March 1, 2011." (H.R. 4038, Summary : Cloture Motion Rejected 55-43-2: R 53-0-1; D 2-42-0; I 0-1-1, 1/20/16, Donnelly Voted Nay)
Senator Donnelly Opposed A Measure That Would Have Barred Illegal Immigrants From Receiving Subsidized Health Care
On March 23, 2013, Donnelly Voted Against S.Amdt. 614 To S.Con.Res. 8. (S.Amdt. 614 To S.Con.Res. 8, Roll Call Vote #77 : Amendment Rejected: R 43-2-0; D 0-52-1; I 0-2-0, 3/23/13, Donnelly Voted Nay)
The Amendment Would Have Prohibited Illegal Immigrants Or Illegal Immigrants Granted Legal Status From Qualifying For Federally Subsidized Health Care. "To establish a deficit-neutral reserve fund to achieve savings by prohibiting illegal immigrants or illegal immigrants granted legal status from qualifying for federally subsidized health care." (S.Amdt. 614 To S.Con.Res. 8, Summary : Amendment Rejected: R 43-2-0; D 0-52-1; I 0-2-0, 3/23/13, Donnelly Voted Nay)
---
Elections
Senate 2018